1, PVC WPC solid door frame profile machine SJMS65/132:
Material: 50%PVC+20% wood+20% caco3+ Chemical additives.
Product: WPC door frame, WPC wall panel, WPC decoration profiles indoor.
With advantages of high quality, stably production, good service and good price, Our WPC solid and hollow door frame machine has been good accepted by our customers. We have also developed our own technology for making new WPC door frame products.

Hereby we would like to introduce our WPC+ASA co-extrusion technology:
1, with ASA coating wooden grain layer, the WPC profile can be used outside even under sunshine, the ASA material is specially for color profile with good weather resistance.and with our this technology, we could make the outer ASA layer into wooden grain color which has better quality and low cost comparing with lamination.
2, we can make three sides or even four sides online embossing for the WPC profile, which can provide nature wooden skin feeling on the WPC profile surface.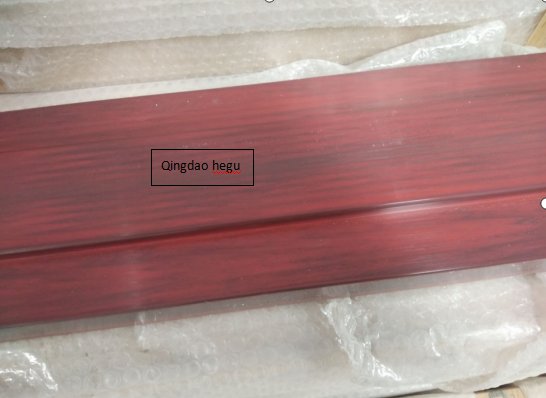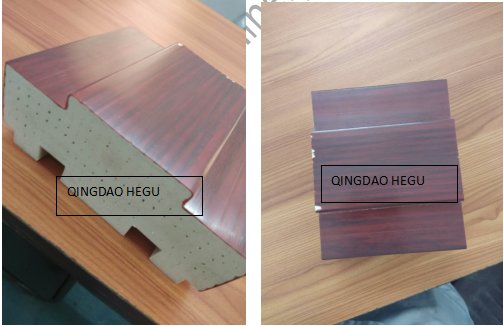 | | | | | | |
| --- | --- | --- | --- | --- | --- |
| Model | Profile Width | Extruder model | Motor power | Max.extrusion capacity | Calibrating platform length |
| HGMSC-200 | 200mm | 51/105 | 22kw | 100-120kg/h | 4000mm |
| HGMSC-300 | 300mm | 65/132 | 37kw | 150-180kg/h | 6000mm |
| HGMSC-400 | 400mm | 65/132 | 37kw | 150-180kg/h | 6000mm |
| HGMSCD-300 | 600mm | 65/132 | 37kw | 150-180kg/h | 8000mm |
| HGMSC-600 | 600mm | 65/13 or 80/156 | 37 or 75kw | 150-350kg/h | 6000mm |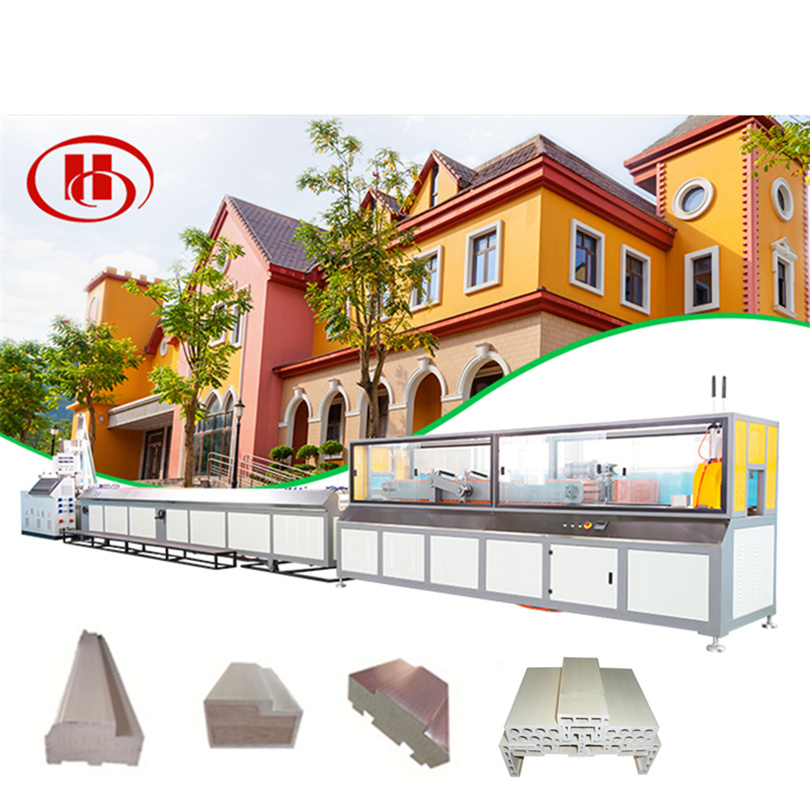 2,PVC WPC door panel machine:
Material:50% PVC+20% wood+20% caco3 +Chemical additives.
Product: Hollow Door panel, Cabinet Door, and other big profiles
| | | | | | | |
| --- | --- | --- | --- | --- | --- | --- |
| Model | Door panel width | Door panel thickness | Extruder model | Motor power | Max extrusion capacity | Calibrating mould section |
| HGMSM-800 | 800 | 20-50mm | SJMS 80/156 | 75kw | 350-380kg/h | 2 |
| HGMSM-1000 | 1000 | 20-50mm | SJMS 92/188 | 110kw | 450-500kg/h | 3 |
| HGMSM-1200 | 1200 | 20-50mm | SJMS 92/188 | 110kw | 450-500kg/h | 3 |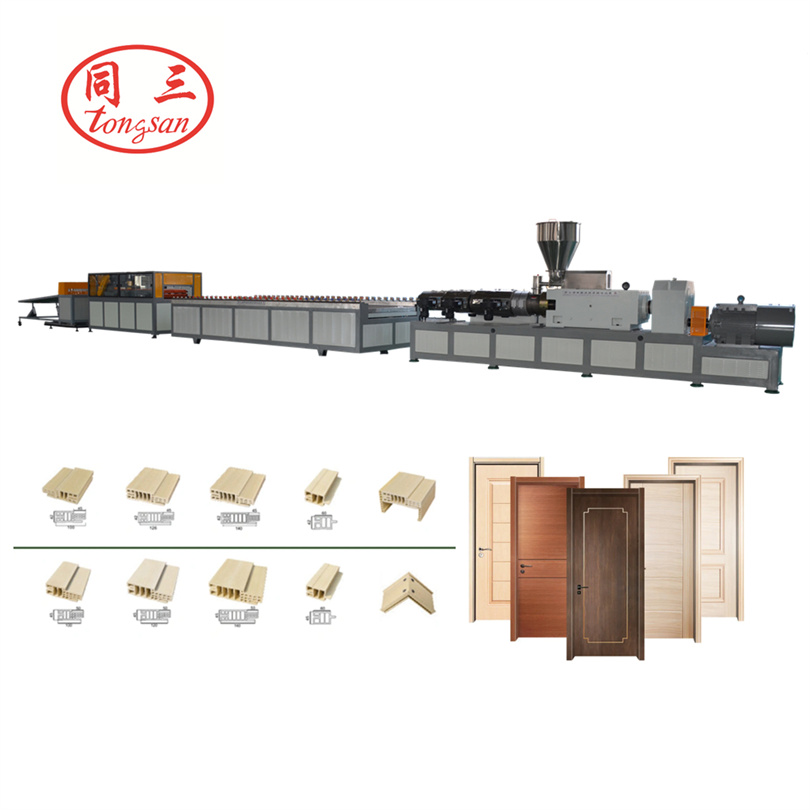 3, PVC WPC foam board machine:
Material: 60% PVC+10% wood +20% CaCo3+ Chemical additives.
Product: Solid door panel, Furniture board, partition wall panel, decoration solid panel


| | | | |
| --- | --- | --- | --- |
| Model | SJMSB-80/156 | SJMSB-80/173 | SJMSB-92/188 |
| Board thickness | 5-18mm | 3-30mm | 20-40mm |
| Board width | 1220mm | 1220mm | 1220mm |
| Max extrusion capacity | 350-380kg/h | 420-450kg/h | 500-550kg/h |
| Motor power | 75kw | 90kw | 110kw |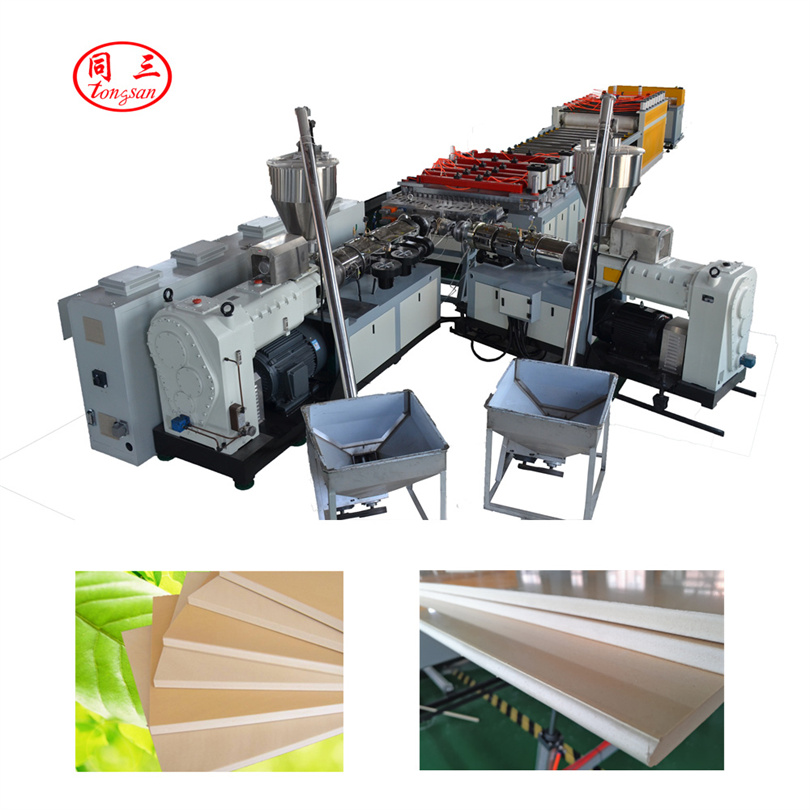 About our company