HGMSE series PP/PE WPC profile production line can continuously produce PP/PE WPC profile. The WPC profile adopts two -step production process. The granulating machine make WPC pellets using PP/PE recycled materials, wood powder and auxiliary agent. Then use this production line produce WPC profile.Customers can choose embossing machine for the production line to achieve 3D pattern performance.Customers can also make PE WPC single color or double color co-extrusion profile by adding extruders.The profile produced by this production line can be sanded and brushed by sanding machine and brushing machine.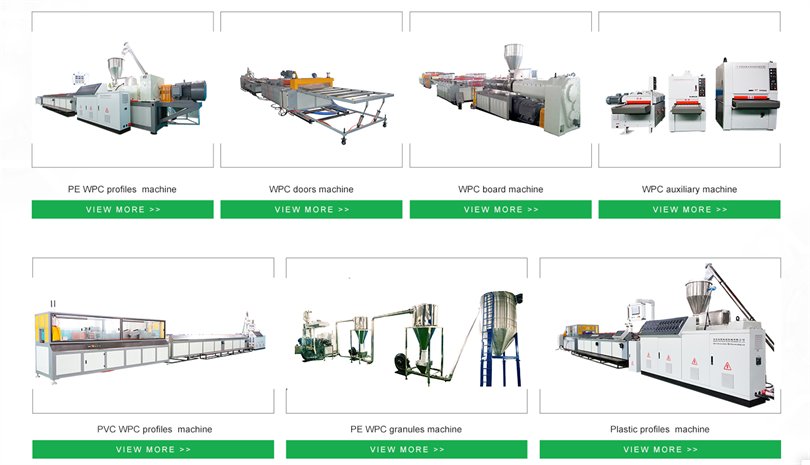 1, PVC WPC door frame profile machine:
Material: 50%PVC+20% wood+20% caco3+ Chemical additives.
Product: WPC door frame, WPC wall panel, WPC decoration profiles indoor.
| | | | | | |
| --- | --- | --- | --- | --- | --- |
| Model | Profile Width | Extruder model | Motor power | Max.extrusion capacity | Calibrating platform length |
| HGMSC-200 | 200mm | 51/105 | 22kw | 100-120kg/h | 4000mm |
| HGMSC-300 | 300mm | 65/132 | 37kw | 150-180kg/h | 6000mm |
| HGMSC-400 | 400mm | 65/132 | 37kw | 150-180kg/h | 6000mm |
| HGMSCD-300 | 600mm | 65/132 | 37kw | 150-180kg/h | 8000mm |
| HGMSC-600 | 600mm | 65/13 or 80/156 | 37 or 75kw | 150-350kg/h | 6000mm |

2,PVC WPC door panel machine:
Material:50% PVC+20% wood+20% caco3 +Chemical additives.
Product: Hollow Door panel, Cabinet Door, and other big profiles
| | | | | | | |
| --- | --- | --- | --- | --- | --- | --- |
| Model | Door panel width | Door panel thickness | Extruder model | Motor power | Max extrusion capacity | Calibrating mould section |
| HGMSM-800 | 800 | 20-50mm | SJMS 80/156 | 75kw | 350-380kg/h | 2 |
| HGMSM-1000 | 1000 | 20-50mm | SJMS 92/188 | 110kw | 450-500kg/h | 3 |
| HGMSM-1200 | 1200 | 20-50mm | SJMS 92/188 | 110kw | 450-500kg/h | 3 |

3, PVC WPC foam board machine:
Material: 60% PVC+10% wood +20% CaCo3+ Chemical additives.
Product: Solid door panel, Furniture board, partition wall panel, decoration solid panel

| | | | |
| --- | --- | --- | --- |
| Model | SJMSB-80/156 | SJMSB-80/173 | SJMSB-92/188 |
| Board thickness | 5-18mm | 3-30mm | 20-40mm |
| Board width | 1220mm | 1220mm | 1220mm |
| Max extrusion capacity | 350-380kg/h | 420-450kg/h | 500-550kg/h |
| Motor power | 75kw | 90kw | 110kw |
About our company