Small diameter high speed single wall corrugated pipe making machine
Plastic telescopic corrugated shrinkable pipe production line, plastic telescopic bellows shrinkable pipe equipment, folding drainage pipe production line,wash basin drainage pipe production line.

Qingdao Tongsan Plastic Machinery Co., Ltd. is located in Jiaozhou City, Qingdao, focusing on the plastic pipe extrusion
production line. The telescopic corrugated shrinkable pipe production line is one of our main products. The machine produce pipe fast and well formed, and we can provide different models according to the pipe diameter and material.

Plastic telescopic bellows corrugated shrinkable pipe use: lavatory sewage deodorization pipe, folding exhaust pipe, etc.Plastic telescopic corrugated pipe production process: automatic feeding machine - extruder - head - forming machine - shrinking machine - cutting machine - stocking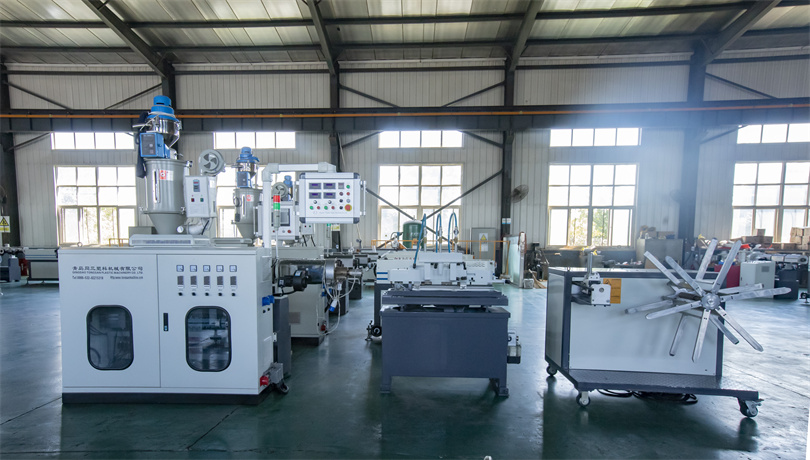 Machine details SJ45 platic corrugated pipe making machines
Details Images
1,SJ45/30 single screw extruder
Adopt with Siemens motor, equip automatic loader and hopper dryer
2, vacuum forming machine

1. water cooling under template, wind cooling on machine two sides. two types cooling method to guarantee
production speed2. vacuum forming to guarantee good product quality.
3,mould block:
1. make mould by our own CNC machine to control the whole line quality2. mould material: 40Cr with vacuum channel
3. mould design: according to customer request
4,automatic winding machine
Aotomatic winding with Servo motor and PLC controler